Indombitable Inc.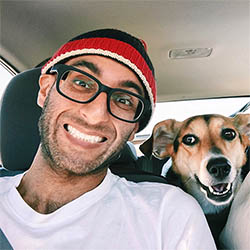 Amit Gupta
Amit is a science-fiction writer, optimist, and occasional advisor & investor. More at amitgupta.com or @superamit.
A month after Mohit moved, bankrupt and alone, into the underground bunker he built for 100, perimeter alarms echoed through the enormous structure for the first time. A lanky, dusty man popped up on the screens, torn-up backpack over one shoulder.
Mohit pulled a baseball cap over his shaved head. He trotted through wide tunnels and up concrete stairs to the surface. Then he walked to the perimeter fencing, his body tense, his eyes glued to the lone figure. The man seemed unusually nonchalant, as if walking through the Mojave desert to a private compound miles from the closest city was something he did every day.
"That laser wire up there?" the man asked, squinting up at the fence.
"It is," Mohit replied.
The man observed Mohit for a minute, then asked, "this some kind of cult thing?"
Mohit shook his head. He considered asking the man who he was, or turning and retreating underground, but found himself happy to be talking to anyone after a month alone. "It's just a safe place. Safe from disease, dust storms, war, everything we've done to mess things up up here."
The man nodded thoughtfully, following the miles of laser wire and fencing with his eyes. Mohit waited. The air was dry, hot, and sharp. It felt dangerous, like if you inhaled it too quickly, you'd be rewarded with a nosebleed.
"What's it like inside?" the man asked, clearly in no rush.
"Kind of like a big hotel," Mohit answered. "But better! Loads of community spaces. Kitchens, movie rooms with great sound, meditation gardens–"
"Meditation gardens, huh?"
Mohit shrugged and adjusted his pitch. "Nice beds. Plenty of food, water, and medicine."
The man nodded, as if considering an unspoken offer. He looked past Mohit at the gray windowless edifice poking up through the sand. "Those walls–pretty thick…"
"A meter thick. Mesh-embedded concrete to block radio signals," Mohit boasted.
"Zombie-proof?"
Mohit felt himself blushing. He'd given dozens of interviews since his disastrous appearance on CNBC to announce his project. The one where, in a moment of youthful exuberance, he joked that the walls were so thick, "they'd even keep the zombies out." The host chuckled, glanced off-screen and pumped his eyebrows, then turned back with a false smile, his teeth bright and sharp. Right away, Mohit knew it was over.
After that, nobody cared that he'd risked all of his then-considerable fortune to bury 500 bunkers miles outside Berlin, Brooklyn, Buenos Aires, Boise, Cork, Cape town and so many others. It no longer mattered that he'd designed anti-contamination vacuum gaps and positive air pressure between sections and incorporated medical-grade fabricators, self-contained water cycling and food production, and layouts modeled on anthropological studies of successful, peaceful communes.
Onstage at TED, he'd declared, "when our governments fail to take responsibility, we must rise to the challenge." They applauded. But what spread were the SNL parodies and viral headlines: "10 Reasons Why Even the Wealthiest Preppers Aren't Willing to Waste Money on Indombitable's Zombie-proof Bunker." The world thought he was a joke.
Now Mohit squirmed in utility coveralls damp with sweat, the space between his skin and the thick canvas like a sauna. He thought about how much cooler it was down below.
"So no zombies, then?" the man asked.
"Just me."
A silence unfolded between the men standing on opposite sides of the fence. Each considered the other, the choices made to bring them there, and the options that lay before them. The man with the backpack shifted his weight from one foot to the other, then asked, "what do you got to eat? I'm Henry, by the way."
---
They came alone, then in small clumps. There were homeless men fleeing overcrowded shelters, mothers and fathers with arms full of children and eyes full of fear, trying to outrun the latest outbreak.
Mohit showed each one around and welcomed them to the community. Henry developed strict quarantine procedures. A UCLA microbiologist, he'd been scorned for sounding the alarm on the rising viral threat and all but ostracized by the scientific community.
As the geneticists and pharma corps fell a year behind, then two, then ten…as the mutation rate increased and new viruses tore through cities…as politicians implored people to go about their lives while they built shelters for themselves, the people kept coming.
Then came the calls from would-be buyers from all over the world, offering vast sums for Mohit's bunkers. Amounts that would have saved his company and reputation, if only they'd come a few months before. Mohit unlocked all the doors instead. What good was money when the world was on fire?
A few years later, the bunkers filled and sealed shut. Decades passed. New waves of illness, climate catastrophe, and so many deaths.
Outside, parking lots gave way to forest. Robins and sparrows nested in office drop ceilings, while small mammals took up grocery store shelves. Cities went wild once again.
Inside, they maintained the hydroponic farms, tended to the sick, cooked together, sang together. Mohit's empty concrete shells rang with life. He met his wife in the bunkers. Their sons were born here, raised here.
---
"Shhhhh, wake up, Mohit," Sandra said, ruffling her husband's hair as he leaned against their bedroom doorway, tracing the notches etched into its frame with his fingertips.
"Couldn't sleep at all last night," he said.
She smiled, slipping an arm around his waist and leaning her head into his shoulder. "I couldn't either. Thirty years. It doesn't seem real."
They pressed against each other, lost in thought. All through the structure, people murmured excitedly. Viral transmission had fallen for 100 days straight and airborne contaminants were back to normal levels. Today the next phase would begin. One Mohit had never imagined when he'd created this place. The community had voted, and they'd decided to emerge.
"I wish we didn't have to leave those behind," she said, nodding at the notches in the door frame. "I don't want to forget that Munu and Sam were once that little."
"I traced them onto paper," he said. "We can recreate them above."
Their sons met them outside their door, their faces set in wide grins. No longer children, but nervous and jittery just the same.
Mohit's heart swelled. This place had taken everything from him and given everything to him. He thought he'd earned his vindication when the bunkers filled. But he'd been wrong. This moment, when their faces met the sun and their feet felt the earth once more, when their sons would see the sky with their eyes for the first time. When they'd have a chance, along with whoever was left, to try again. This was the reason he had built them all.
As the crowd moved up towards the vivid colors of rock and cactus, and into the startling warmth of the early morning sun, Munu nudged him.
"Dad," he said. "You know how we buried ourselves underground, and now we're slowly rising to live again?"
"Yes," Mohit replied.
"So we're basically zombies, right?"
Mohit smirked, nodding. Perhaps he'd just gotten it backwards. The bunkers hadn't kept the zombies out, they'd kept them in.