Someday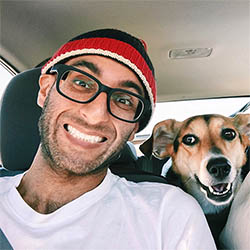 Amit Gupta
Amit is a science-fiction writer, optimist, and occasional advisor & investor. More at amitgupta.com or @superamit.
Prakash had always wanted to do that thing. The one you see in movies, where someone goes to the airport, looks up at the big board, and then decides where to go. And here he was, the lines at the handful of open counters empty and a half-full departures board before him. He thought about how long it'd been since anything in his life had been his choice, or felt safe. Even standing here felt like a risk, though they said it was okay now, that the virus was in retreat.
His fists were tight and clammy. He checked his watch and scanned the concourse, looking for someone. He smoothed out wrinkles in the shirt he wore—his own touch soothing him a little. He'd ironed it just that morning at his hotel. When he'd checked out, standing six feet back from the counter, three months after arriving, two and a half months longer than he'd expected to stay, the front desk clerk had given him a smile and a nod. He half-smiled back, as if he'd forgotten how that worked, then fixed his expression with the gravity that 'going outside' demanded. Now that smile was creeping out again.
He'd met Ritu online. They were both in the States on business when the orders came down to shelter in place. By then the borders were closed anyway. Ritu had been in Boston pitching pharma companies on her company's rapid gene sequencing capabilities. He'd been in New York meeting with software teams embedded at his banking clients. But they hadn't known each other then.
When it started happening, the WhatsApp groups had exploded with chatter, fostering video chats among families and neighbors, offering cooking lessons to far-away bachelors, and providing introductions between someone's uncle, to another's cousin, to yet another's friend, nephew, or niece–all trapped abroad in various states of limbo. Ritu's chachi's sister in Delhi had got to talking with Prakash's masi in Bangalore in a group coordinating homemade respirator mask production. The aunty network never went down, even when all the streaming slowed the Internet to a crawl, and introductions were made.
A shy hello (Ritu messaged first) led to long exchanges of timid messages, which led to a phone call, then another, which led to video calls late into the night. Ritu showed him how she jury-rigged her room's coffee maker to make masala tea and told him of her life in Delhi. Of the samosa walla she always visited on her way home from work, the one at the corner of the Vasant Vihar metro station. She'd heard he'd been forced closed along with all the other vendors, of course, but her mother revealed that he secretly made deliveries to her parents. They wouldn't be the same delivered, though, she said. Nothing was the same anymore, he said.
At first, Prakash boasted of his mid-level executive position at Reliance. He demonstrated how he used the clips from a coat hanger to cinch his room's curtains tight, keeping his room at least partially dark. Later, when he knew her a little better, he confessed that he'd attended AIIMS hoping to become a surgeon, but couldn't cut it and dropped out. His parents were placated with his executive job, but he kept wondering…if he'd stuck with it, become a doctor, maybe he would have been useful in all this, instead of just sitting in a hotel room waiting for the world to come out of hibernation. We all have our roles to play, she said. You couldn't have known.
They talked each night. She teased him, making him laugh until he forgot his loneliness; forgot how far he was from his family and friends. He shared the makeshift contraptions of paper cups and plastic cutlery he invented, allowing them to steam idlis in each of their microwaves. But most of all they talked about "someday". Someday they'd no longer be imprisoned in the Marriott and the Raddison. Someday, they'd open the airports and gas the jets. Someday, they'd be able to go anywhere they wanted. Someday, they'd meet.
He checked his watch again. She was fifteen minutes late. His heart sank. Perhaps he'd gotten the time wrong. Or her connecting flight had been delayed. He swiped his phone open to check.
Then he felt a tap on his shoulder and turned. He recognized her immediately.
"You look just like you do on FaceTime," he said, his whole being smiling.
She gave a little curtsy. "I get that all the time."
He shifted from one foot to the other. Should he take her hand? Kiss her? Ask first? He tried to imagine how it'd go in a Bollywood movie while she looked on, her eyes kind and bemused.
Then she reached out her hand, and he took it. Later he would be surprised that he hadn't stopped to wonder if her hand was clean, if she'd used sanitizer. He simply took it and held it like he hadn't been waiting months to do just this. He felt her warm, soft palm and her neatly trimmed nails. They tightened their grip on each other, and turned to look up at the board.
"Where shall we go?" he asked.
"We could go anywhere," she said. "Anywhere at all…"
They paused, then spoke together: "Home."